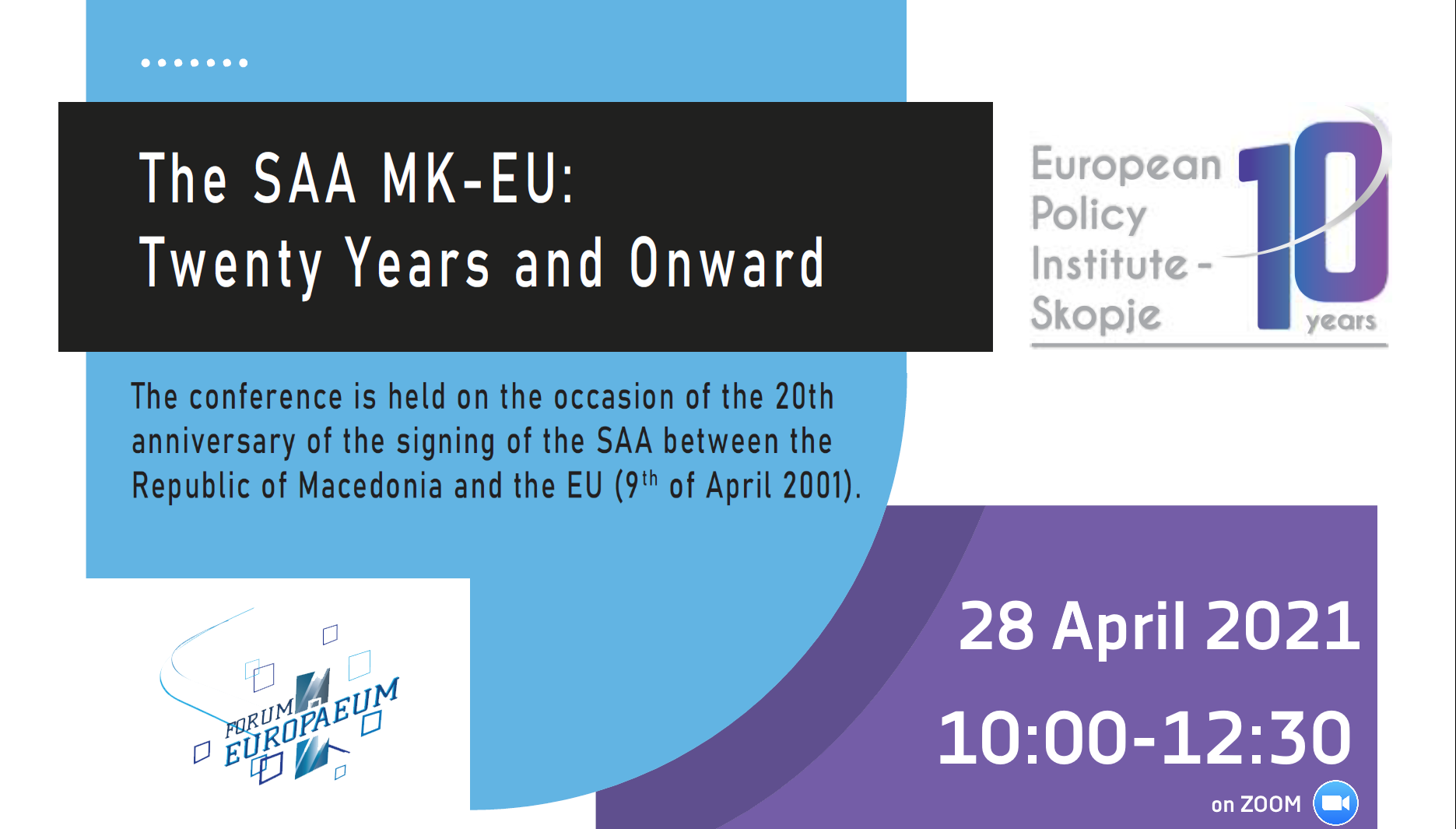 Conference: The Stabilisation and Association Agreement MK-ЕU: Twenty Years and Onward
The European Policy Institute organizes a conference  "Conference: The Stabilisation and Association Agreement MK-ЕU: Twenty Years and Onward" on the 28th of April at 10h on the Zoom platform.
The conference is held on the occasion of the 20th anniversary of the signing of the SAA between the Republic of Macedonia and the EU (9th of April 2001).
At the same time, the European Policy Institute (EPI) is marking its tenth anniversary. EPI's first activity ten years ago was the Conference on the occasion of the tenth anniversary of signing the SAA.
In recent Macedonian history, many significant events took place in the first years of the decades. This year our country marks 30 years of independence and 20 years since the signing of the Ohrid Framework Agreement.  A year ago, our country, now North Macedonia, became a NATO member.
The Republic of Macedonia was the first country in the region, which signed an SAA and the country with the longest candidate status – 16 years. Despite the name change in order to join NATO and EU, against the expectations, the EU did not open the negotiations with North Macedonia, due to the unfounded blockade by Bulgaria, even though a new and more complex accession methodology was previously established.
In the meantime, initiatives were put forward for other forms of association between the countries of the region and the EU as an alternative to membership – such as the European Economic Area, which have largely been rejected by the regional leaders and the broader public, insisting on membership. However, there was no wider debate on these ideas.
The SAA remains the legal basis for the relations between North Macedonia and the EU. The Interim Agreement on trade and trade-related matters entered into force in June 2001, while the SAA entered into force on 1 April 2004. The institutional framework established by the SAA remains the main institutional framework of the relations between our country and the EU.
Under such conditions, and especially considering the slowed down and more complex accession process, as well as the "new ideas" for alternatives to membership, it is worthwhile to revisit the SAA and to evaluate its benefits and opportunities.
Consequently, the objective of the Conference is to:
– Analyse the benefits, but also the untapped opportunities and potentials of the SAA in the relations with the EU and
– Point out the ways forward for the implementation of the Agreement.
Selected papers by EPI on the Stabilisation and Association Agreement: