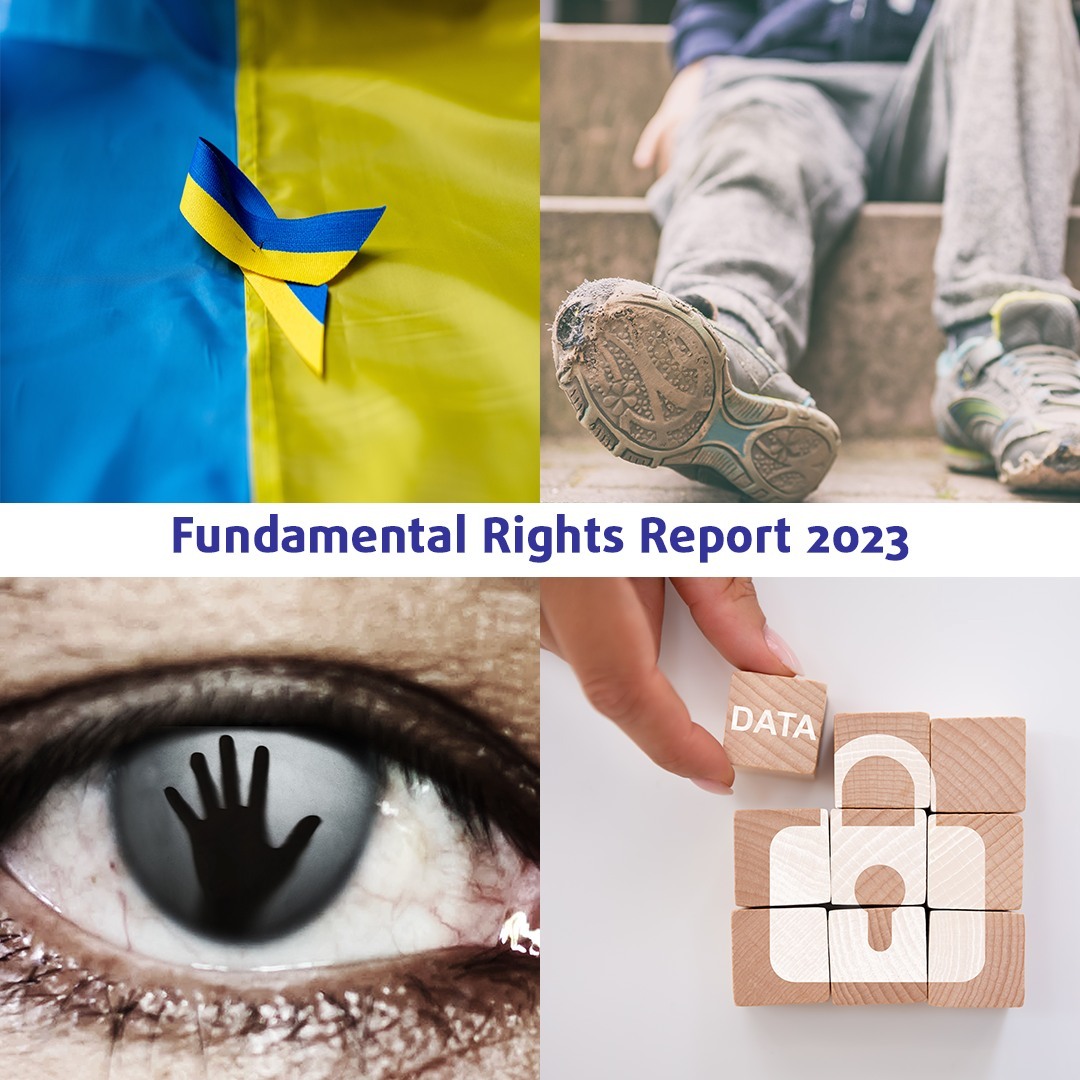 FRA's Fundamental Rights Report 2023: Targeted support for people fleeing Ukraine, tackling rising child poverty and hate, and digital safeguards
The impact of Russia's war of aggression against Ukraine, rising child poverty, widespread hate and protecting rights in the face of technological change are just some of the pressing human rights issues in FRA's 2023 Fundamental Rights Report. With a focus section on the impact of the aggression within the EU, the report examines the support and solidarity provided by governments, local authorities and society. It suggests how EU countries can better ensure effective protection, especially for women who fled the conflict and need targeted support.
FRA's Fundamental Rights Report 2023 reflects on the developments and shortfalls of human rights protection in the EU in 2022.
Its focus section covers the fundamental rights implications of the aggression in Ukraine for the EU and the challenges that arose. For example, the EU's Temporary Protection Directive provided welcome access to work, housing, social assistance, education and healthcare. But most of those who arrived are women and girls and many need to look after children or older relatives. This underlines the need for targeted support such as:
affordable, safe and suitable housing, especially for women and children;
suitable jobs that match skills and qualifications, and guard against exploitation;
integrating children in ordinary schools and quick access to childcare;
support for the women who experienced sexual violence and exploitation.
"Women and girls are innocent victims of Russia's aggression in Ukraine," says FRA Director Michael O'Flaherty. "EU countries provided temporary protection granting them the support they needed to adapt and live in Europe. But the ongoing conflict requires longer-term solutions that also pay particular attention to women."
Other key fundamental rights issues in 2022 addressed by the report include:
Rising child poverty: The pandemic and rising energy costs drove even more children, almost 1 in 4, into being at risk of poverty. The EU and national governments should deliver on actions under the European Child Guarantee that began in 2022 and use funds to alleviate child poverty, particularly for poor and vulnerable households such as those in single-parent, Roma and migrant families.
Widespread hate: Hate crime and hate speech, particularly online, remained problematic in 2022, partly fuelled by Russia's aggression in Ukraine. But only half of EU countries had national anti-racism action plans. More countries should therefore develop such plans as well as concrete local and regional measures to tackle racism.
Safeguarding rights as technology advances: Effective fundamental rights protection as more artificial intelligence and digital services are rolled out is a growing concern. The landmark 2022 EU Digital Services Act recognised the need for strong rights protection which should be adhered to in its implementation. EU legislators also need to ensure there are similar strong safeguards in the proposed EU's AI Act
The report summarises and analyses major human rights developments in the EU in 2022. It contains proposals for action, covering: EU Charter of Fundamental Rights and its use by Member States; equality and non-discrimination; racism and related intolerance; Roma inclusion and equality; asylum, borders and migration; information society, privacy and data protection; child rights; access to justice; and implementing the UN's Disability Convention (CRPD).
Together with our collaborators, the European Policy Institute prepared the report on North Macedonia this year as well.