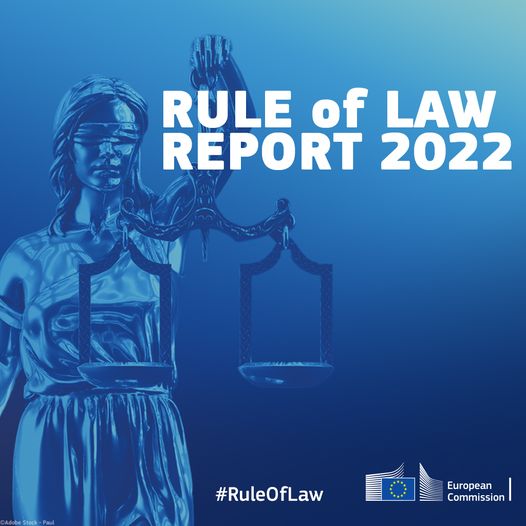 The European Commission published its third annual Rule of Law Report
The European Commission published its third annual Rule of Law Report. This year, emphasis was placed on the importance of respecting democratic values, human rights and the rule of law, in the context of the developments during the ongoing Russian invasion of Ukraine.
Same as the previous years, four critical areas for the rule of law are monitored: justice systems, the anti-corruption framework, media pluralism and freedom, and other institutional issues linked to checks and balances, while this year's report for the first time contains specific recommendations addressed to each Member State, intended to encourage countries to continue with planned reforms and identify the problems that must be addressed.
Reforms in the justice systems related to strengthening judicial independence, efficiency and quality of justice, further digitalising justice systems and facilitating access to justice, have been implemented by the many Member States, however, there are still some concerns persisting in a few states regarding judicial independence and the autonomy of prosecution services.
The European Union remains one of the least corrupt regions in the world, albeit corruption remains a serious concern for EU citizens since 68% of them believe that corruption is widespread in their country.
A novelty in this year's report is that it looks into public service media and their meaningful role in society and democracy, which raises the need to protect their independence, ensure adequate public funding and relieve them from political pressure.
Another novelty is that for the first time, the report also looks at Member States' implementation of judgements by the European Court of Human Rights.
For the rest of the findings from the Report, see the following link:
https://ec.europa.eu/info/sites/default/files/1_1_194062_communication_rol_en.pdf
These and many more issues will be addressed within the Czech Presidency of the EU Council that began on July 1, and which will be focused on the following five priority areas:
Managing the refugee crisis and post-war reconstruction of Ukraine
Energy security
Strengthening European defence capabilities and cybersecurity
Strategic resilience of the European economy
The resilience of democratic institutions